Squash Court Floors
Coastal Sports Flooring offers a turnkey solution for squash court floors that incorporates all aspects and features of the court. Our  full-service includes the design, materials and construction of the entire project to ensure that the squash court meets the highest standards in quality and safety.
Extremely fast games such as squash need a surface with a high degree of friction.Our Squash Court Floors  is a solid hardwood 33/32 thick  board of first grade clear maple with a 45grit finish, which provides the high level of friction required by the sport. Squash Court Floors  is unlike any other floor in that the surface is not a smooth finish but a coarse surface that helps provide the right amount of grip for both the ball and player. It is important to employ a specialist when renovation a squash court as the surface finish is not the same as most other sports floor coverings and requires specialist attention and knowledge to achieve the required finish.
OUR COMPLETE SOLUTION INCLUDES:
Floors and Gamelines
Glass Walls
Consulting and Design Services
Doors
Accessories
Our Squash Court Floors
Accredited and Certified Professionals
Uniform light coloured surface – easier to follow the ball in play
Good shock absorption
Ideal surface for friction
Tried and tested
SQUASH COURT SPECIFICATIONS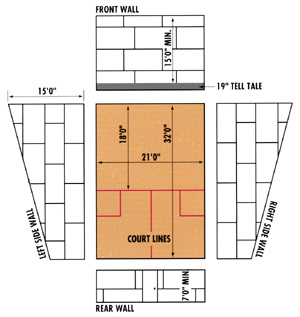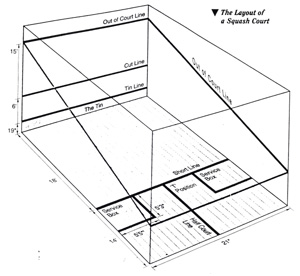 | | | |
| --- | --- | --- |
| Perimeter: | | 21′ W X 32′ L X 20′ H |

AacerCush I
AacerCush I rests snuggly on a padded sleeper system. It's the padded sleeper that makes AacerCush I™ a very resilient floor. Players, Athletic Directors and Coaches find the natural resiliency provides a very pleasing floor system to play on.

Features
Economical all wood system
High Profile Floating System
AacerCush™ Pads provide Good Shock Absorption
Moves Freely to accommodate changes in humidity
Downloads
PDF Brochure
Specification
CAD DWG
CAD PDF
Squash Courts California
Alameda
Butte County
Calaveras County
Central Coast
Central Valley
Colusa County
Contra Costa County
Del Norte County
El Dorado County
Fresno County
Glenn County
Humboldt County
Imperial County
Inyo County
Kern County
Kings County
Lake County
Lake Tahoe
Lassen County
Los Angeles County
Madera County
Marin County
Mariposa County
Mendocino County
Merced County
Modoc County
Mono County
Monterey County
Napa County
Nevada County
Northern California
Orange County
Placer County
Plumas County
Riverside County
Sacramento County
San Benito County
San Bernardino County
San Diego County
San Francisco County
San Joaquin County
San Luis Obispo County
San Mateo County
Santa Barbara County
Santa Clara County
Santa Cruz County
Shasta County
Sierra County
Sierra Nevada
Silicon Valley
Siskiyou County
Solano County
Sonoma County
Southern California
Stanislaus County
Sutter County
Tehama County
Trinity County
Tulare County
Tuolumne County
Ventura County
Wine Country
Yolo County
Yuba County
Acton
Adelanto
Agua Dulce
Alameda
Alamo
Albany
Alhambra
Aliso Viejo
Alpine
Alta Loma
Alturas
Amador City
Anaheim
Anaheim Hills
Anderson
Angels Camp
Angelus Oaks
Antelope
Antioch
Anza
Apple Valley
Applegate
Aptos
Arcadia
Arcata
Arleta
Armona
Arnold
Aroura Hills
Arroyo Grande
Atascadero
Atwater
Atwood
Auberry
Auburn
Avalon
Avery
Avila Beach
Azusa
Bakersfield
Baldwin Park
Bangor
Banning
Barstow
Bay Point
Bayside
Bell
Bellflower
Belmont
Belmont Shores
Belvedere
Ben Lomond
Benicia
Berkeley
Berry Creek
Big Bear City
Big Bear Lake
Big Sur
Bishop
Blue Jay
Blue Lake
Blythe
Bolinas
Bonita
Borrego Springs
Bothell
Boulder Creek
Brea
Breenbrae
Brentwood
Brisbane
Buellton
Buena Park
Burbank
Burlingame
Burlington
Calabasas
California City
Calimesa
Calistoga
Camarillo
Cambria
Cameron Park
Campbell
Campo
Canyon Country
Canyon Lake
Capistrano Beach
Capitola
Cardiff
Cardiff-by-the-Sea
Carlsbad
Carmel
Carmel Valley
Carmichael
Carpinteria
Carson
Castaic
Castro Valley
Catalina Island
Cathedral City
Cayucos
Cedar Glen
Cedar Ridge
Ceres
Cerritos
Cherry Valley
Chester
Chico
China Lake
Chino
Chino Hills
Chula Vista
Citrus Heights
City of Industry
Claremont
Clayton
Clearlake Oaks
Clearlake
Cloverdale
Clovis
Coarsegold
Colfax
Coloma
Colton
Columbia
Colusa
Commerce
Compton
Concord
Cordelia
Corning
Corona
Corona del Mar
Coronado
Corralitos
Corte Madera
Costa Mesa
Cotati
Coto de Caza
Covina
Crescent City
Crestline
Crockett
Culver City
Cupertino
Cutten
Cypress
Daly City
Dana Point
Danville
Davis
Del Mar
Desert Hot Springs
Diamond Bar
Diamond Springs
Dobbins
Dominguez Hills
Dove Canyon
Downey
Duarte
Dublin
Durham
East Palo Alto
Edwards
Edwards AFB
El Cajon
El Camino Village
El Centro
El Cerrito
El Dorado
El Dorado Hills
El Granada
Elk
El Grove
El Macero
El Monte
El Segundo
Elk Sobrante
El Toro
Emeryville
Encinitas
Escondido
Etiwanda
Etna
Eureka
Exeter
Fairfax
Fairfield
Fair Oaks
Fallbrook
Felton
Ferndale
Fieldbrook
Fillmore
Flournoy
Folsom
Fontana
Foothill Ranch
Foresthill
Forest Ranch
Fort Bragg
Fortuna
Foster City
Fountain Valley
Frazier Park
Freedom
Fremont
Fresno
Frogtown
Fullerton
Galt
Garberville
Gardena
Gardena Grove
Gilroy
Glendora
Glen Ellen
Glenn
Gold River
Goleta
Grand Terrace
Grass Valley
Greenbrae
Groveland
Grover Beach
Gualala
Guerneville
Hacienda Heights
Half Moon Bay
Hanford
Harbor City
Hawthorne
Hayfork
Hayward
Healdsburg
Hemet
Hercules
Hermosa Beach
Hesperia
Highland
Hinkley
Hollister
Hollywood
Homeland
Honcut
Humboldt
Huntington Beach
Huntington Park
Idyllwild
Imperial
Imperial Beach
Independence
Indian Wells
Indio
Inglewood
Inverness
Ione
Irvine
Irwindale
Isla Vista
Isleton
Jackson
Jacumba
Jamestown
Jamul
Jenner
Joshua Tree
Julian
Kelseyville
Kensington
Kentfield
Kenwood
King City
Klamath
Klamath River
La Canada
La Canada Flintridge
La Crescenta
La Habra
La Honda
La Jolla
La Mesa
La Mirada
La Palma
La Quinta
La Verne
Ladera Ranch
Lafayette
Laguna Beach
Laguna Hills
Laguna Niguel
Lake Almanor
Lake Arrowhead
Lake City
Lake Elsinore
Lake Forest
Lake Isabella
Lakeport
Lakeside
Lake Tahoe
Lakewood
Lamont
Lancaster
Larkspur
Lathrop
Lawndale
Leggett Valley
Lemon Grove
Lemoore
Lewiston
Littlerock
Livermore
Llano
Lodi
Loleta
Lomita
Lompoc
Loomis
Los Alamitos
Los Altos
Los Altos Hills
Los Banos
Los Gatos
Los Osos
Lotus
Lower Lake
Magalia
Mammoth Lakes
Manteca
Manton
Marina
Mariposa
Martinez
Marysville
McClellan AFB
McKinleyville
Meadow Vista
Mendocino
Menlo Park
Merced
Middletown
Midway City
Millbrae
Mill Valley
Milpitas
Mira Loma
Mission Viejo
Modesto
Moffett Field
Mojave
Monarch Beach
Mono Hot Springs
Monrovia
Montague
Montara
Montclair
Montebrllo
Montecito
Monterey
Monte Sereno
Montrose
Moorpark
Moraga
Moreno Valley
Morgan Hill
Morro Bay
Moss Beach
Mount Shasta
Mount Wilson
Mountain Ranch
Mountain View
Murrieta
Napa
National City
Nevada City
New Almaden
Newark
Newbury Park
Newhall
Newport
Newport Beach
Nicasio
Nice
Nipomo
Norco
North Highlands
North Manhattan Beach
Norwalk
Novato
Oakdale
Oakhurst
Oakland
Oakley
Oak Park
Occidental
Oceanside
Ojai
Ontario
Orange
Orangevale
Oregon House
Orinda
Oroville
Oxnard
Pacheco
Pacifica
Pacific Beach
Pacific Grove
Palermo
Palmdale
Palm Desert
Palm Springs
Palo Alto
Palo Cedro
Palos Verdes
Paradise
Paramount
Paso Robles
Patterson
Pebble Beach
Penn Valley
Perris
Petaluma
Pico Rivera
Piedmont
Pinole
Pioneer
Pismo Beach
Pittsburg
Placentia
Placerville
Playa del Rey
Pleasant Hill
Pleasanton
Plymouth
Point Arena
Point Richmond
Pomona
Port Hueneme
Portola Hills
Portola Valley
Potter Valley
Poway
Prather
Quartz Hill
Quincy
Ramona
Rancho Bernardo
Rancho Cordova
Rancho Cucamonga
Rancho Dominguez
Rancho La Costa
Rancho Mirage
Rancho Palos Verdes
Rancho Santa Fe
Rancho Santa Margarita
Red Bluff
Redding
Redlands
Redway
Redwood City
Redwood Shores
Rescue
Rialto
Richmond
Ridgecrest
Ripon
Riverbank
Riverside
Rocklin
Rohnert Park
Rolling Hills Estates
Rosamond
Rosemead
Roseville
Ross
Running Springs
Sacramento
Salida
Salinas
Salton City
San Anselmo
San Bernardino
San Bruno
San Carlos
San Clemente
San Diego
San Dimas
San Francisco
San Gabriel
San Gregorio
San Jacinto
San Jose
San Juan Bautista
San Juan Capistrano
San Leandro
San Lorenzo
San Luis Obispo
San Marcos
San Marino
San Martin
San Mateo
San Pablo
San Pedro
San Rafael
San Ramon
San Ysidro
Sanger
Santa Ana
Santa Barbara
Santa Clara
Santa Cruz
Santa Margarita
Santa Maria
Santa Paula
Santa Rosa
Santa Ynez
Santee
Saratoga
Saugus
Sausalito
Scotia
Scotts Valley
Sea Beach
Seal Ranch
Seaside
Sebastopol
Shafter
Shelter Cove
Sherman
Shingle Springs
Sierra Madre
Signal Hill
Silverado
Silverstrand Beach
Simi Valley
Skyforest
Solana Beach
Solano Beach
Soledad
Solvang
Somerset
Sonoma
Sonora
Soquel
South Lake Tahoe
South San Francisco
South San Gabriel
Spring Valley
Springville
St. Helena
Stanford
Stanislaus
Stockton
Studio City
Suisun
Suisun City
Summerland
Sun City
Sunland
Sunnyvale
Sunol
Sunset Beach
Sun Valley
Surfside
Taft
Tahoe City
Tahoe Vista
Tecopa
Tehachapi
Temecula
Temple City
Templeton
Thousand Oaks
Three Rivers
Tiburon
Tierrasanta
Toluca Lake
Topanga
Torrance
Tracy
Trinidad
Truckee
Tujunga
Tulare
Turlock
Tustin
Twain Harte
Twentynine Palms
Ukiah
Union City
Universal City
Upland
Vacaville
Valencia
Vallejo
Valley Center
Valley Glen
Valley Village
Vernalis
Victor
Victorville
Villa Park
Vineburg
Visalia
Vista
Walnut
Walnut Creek
Warm Springs
Watsonville
Weaverville
Weed
West Covina
West Menlo Park
Westminster
West Sacramento
West Tustin
Westwood
Westwood Village
Whitmore
Whittier
Wildomar
Willits
Wilmington
Windsor
Woodland
Woodside
Yorba Linda
Yountville
Yreka
Yuba City
Yucaipa
Yucca Valley